Y-Combinator (YC) expects even more economic turmoil in 2023. It advises project leaders to revert to "survival" mode as fundraising could be challenging in the next few months.
In a screen grab circulated by Linas Beliunas on Jan. 3, YC, the US venture capital fund, appears to be expecting the worse based on their market analysis, extrapolated from the unfavorable conditions that punctuated 2022.
"No one can predict how bad the economy will get, but things don't look good", the group warned portfolio companies, responding to a deluge of requests from teams seeking advice on how they should proceed on spending, hiring, and more.
"The safe move is to plan the worst", YC added, saying the best move forward, assuming the upcoming economic downturn will be worse than the last two of 2022 and the Great Financial Crisis (GFC) of 2008, will be to cut costs.
Rough times coming for startups
Based on history, YC said market slides would impact venture capital fundraising, with liquidity providers expecting more discipline.
Financial markets have been in tatters since early last year. After governments, including the United States, initiated quantitative easing programs and slashed fund rates to record lows, shifting monetary policy to stimulate the economy during the COVID pandemic in 2020, the stock and crypto markets pumped.
At peaks, bitcoin (BTC) was trading at $69k, pumping the total market capitalization to over $3 trillion.
However, with inflation expanding, rising to the highest level in 30 years in the United States last year, the Federal Reserve (FED), Bank of England (BoJ), and other central banks began hiking rates as a countermeasure. The resulting tightening and weaning of the market of the free cash, analysts said, led to the rapid contraction, worsening the winter. 
Crypto assets and the stock markets tanked from their highs. The S&P 500 fell 18% from 2021 peaks when BTC dropped to $15.3k, shedding more than half its market cap. Amid this drop, Three Arrow Capital (3AC), a crypto venture capital, folded following the collapse of terra (LUNA) and UST, an algorithmic stablecoin.
The contagion forced the market lower, destroying FTX and Alameda Research.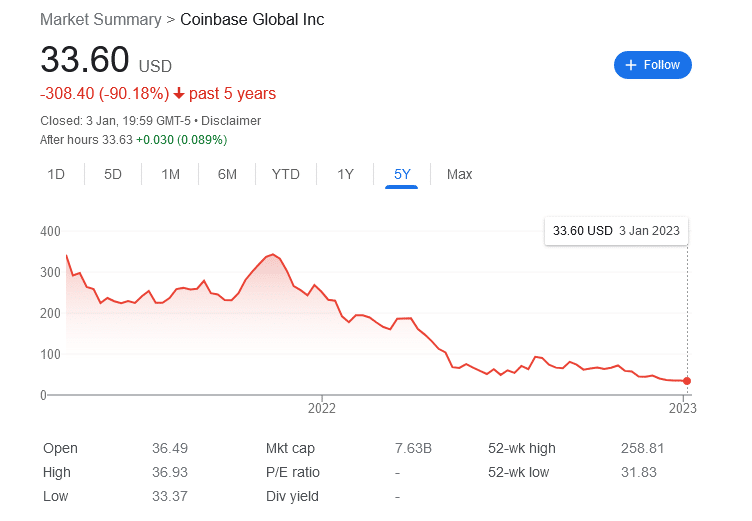 YC has invested in over 3k companies, including Coinbase (COIN:NASDAQ), a cryptocurrency exchange, and Reddit, a social media platform that recently launched its Community Points on the ethereum mainnet. The market downturn has severely impacted Coinbase.
Coinbase shares are down over 90%. Brian Armstrong, the CEO, said revenue could drop by more than 50% in 2022. In June 2022, Coinbase extended its hiring freeze by only prioritizing "high priority" areas.
Follow Us on Google News
#YCombinator #tells #portfolio #companies #bad