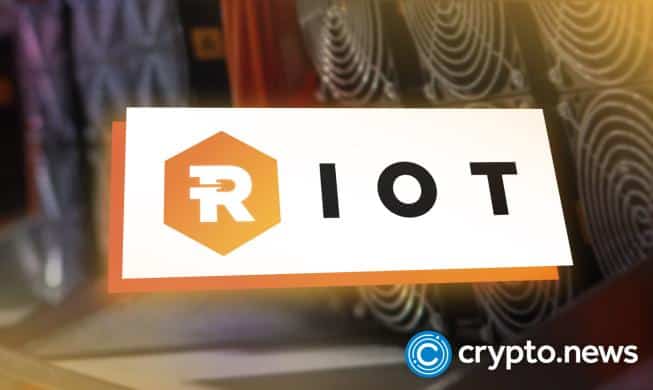 The company formerly known as Riot Blockchain, Inc., announced that it has changed its name to Riot Platforms, Inc.
Riot plans to expand
Riot Platforms is a leading company in the data center hosting and BTC mining industry.  The company's growth strategy to keep growing its increasingly diversified commercial operations is supported by Riot's rebranding, which also symbolizes a reinvention of its corporate ambition to be the world's top Bitcoin-driven infrastructure platform.
This is a significant milestone for Riot and comes as a result of our unique strategic position in the market…Our successful acquisitions of Whinstone U.S., which developed and operates North America's largest dedicated Bitcoin mining data center facility, and ESS Metron, which enhanced our electrical component engineering and supply chain capabilities, have formed the foundation on which our teams have built, and will continue to develop, business platforms for further growth. The scope and scale of our businesses continues to expand, and this rebranding better reflects our position as strategic allocators of capital to increasingly broaden the scope of our Bitcoin-focused operations.

Jason Les, CEO of Riot.
Riot's BTC mining hash rate
Riot's ambition is to become the top infrastructure platform powered by bitcoin.
Riot presently uses 136 megawatts (MW) of electricity and has a distributed hash rate capacity of 4.6 EH/s. Riot has recently obtained purchase agreements for more S19 miners, expected to be delivered and deployed by Q1 2023, increasing their capacity for self-mining hash rates to 12.6 EH/s.
Along with the Company's mining activities, Riot also serves about 200 MW worth of institutional bitcoin mining customers.
Riot is a vertically integrated corporation specializing in Bitcoin mining and digital infrastructure, including blockchain. The company operates bitcoin data center activities, bitcoin mining operations, and electrical switchgear engineering and manufacturing facilities in central Texas and central texas, respectively.
Follow Us on Google News
#Riot #Blockchain #announces #rebranding #Riot #Platforms