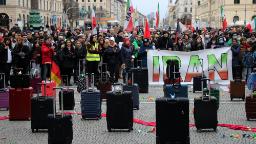 CNN
 — 

Protesters across North America rallied together Sunday to mark the third anniversary of Iran's downing of Ukraine International Airlines Flight 752 (PS752) and demand justice for the victims and their families.
The Kyiv-bound Boeing 737 plane crashed shortly after takeoff from Tehran on January 8, 2020, killing all 176 passengers and crew on board. Iranian authorities admitted that its Islamic Revolutionary Guard Corps Aerospace Force shot the plane down by mistake after it was misidentified as a cruise missile by an air defense operator.
Of those killed, 138 were traveling to Canada, according to the CBC. Among the victims were 82 Iranians, 63 Canadians, 11 Ukrainians, 10 Swedes, four Afghans, three Germans and three Brits.
Protesters gathered Sunday in Washington, DC; Portland, Oregon; San Diego, California; Philadelphia, Pennsylvania, and other cities across the United States. They also rallied in Canadian cities, including Toronto, Kingston, Halifax and Regina. Globally, protests were held in Australia, Belgium, Turkey, Portugal, Germany and other countries.
The protests were organized by The Association of Families of Flight PS752 Victims, an international group seeking justice for those killed. "We are determined to uncover the truth and find out why a commercial flight was shot down by IRGC's missiles. We will staunchly seek justice until the culprits, perpetrators and commanders of this atrocious crime are identified and brought to justice before an impartial and independent court," the association says on its website.
On January 10, 2020, then-Iranian President Hassan Rouhani tweeted that an internal investigation had concluded the crash was due to "human error" after missiles were fired at PS752. "Investigations continue to identify & prosecute this great tragedy & unforgivable mistake," he said.
In a weekly cabinet meeting Sunday, current President Ebrahim Raisi commemorated those who died aboard flight PS752 and said the investigation into the tragedy is ongoing, according to state-aligned newspaper Hamshahri daily.
However, victims' families say they don't believe Iran will bring justice on its own.
In December, a coalition of four countries – Canada, Sweden, Ukraine and the United Kingdom – called on Iran to submit to binding arbitration of the dispute related to the downing of Flight PS752. The coalition, called the International Coordination and Response Group, wants "a full, transparent and credible explanation of the downing."
Hamed Esmaeilion, a Toronto-based dentist who spearheaded the victims' association after losing his wife and daughter who were aboard PS752, says he's hopeful the coalition will succeed. "The families of the victims usually are not in forefront for decision making and this is a big problem," he told CNN. Esmaeilion said only governments can successfully hold Iran accountable for its actions.
Iran has six months from the time of the filing to respond to the request for arbitration, according to a report from Global Affairs Canada that outlines international legal protocol on the matter. "At the end of these six months, which cannot be extended, the four governments can officially refer the case to the International Court of Justice in the Hague," Esmaeilion said in a video posted to The Association of Families of Flight PS752's Instagram page.
Esmaeilion recently partnered with Iranian-Canadian filmmaker Babak Payami to chronicle his search for justice in the film "752 is Not a Number." It offers a "window into the monument of injustice and inhumanity that exists in Iran by the Islamic Republic regime," Payami told CNN.
Esmaeilion says he hopes Sunday's protests will push forward the fight for justice.
Speaking to a group of protesters gathered at his wife and daughter's gravesite, Esmaeilion said: "This file will be registered at The Hague, this crime will be reviewed by members of The Hague and we will remain hopeful that this court will held be in a free Iran. We will fight for that day, and we will not forget nor will we forgive."

#Protesters #rally #North #America #anniversary #Irans #downing #Flight #PS752