With a 7% increase in the last seven days and a rise to position 12 on the CoinMarketCap list, litecoin has had a solid start to 2023.
Litecoin commences 2023 on a successful note despite the protracted bear market causing more than 50% losses for most currencies in 2022, making it a horrible year for the whole industry. The market concluded the year with a drop of around 53%, and litecoin was no exception.
However, this year could be different for LTC because the coin appears to have had a great start. At the time of writing, the price of Litecoin is about $76, up 8% in the last seven days.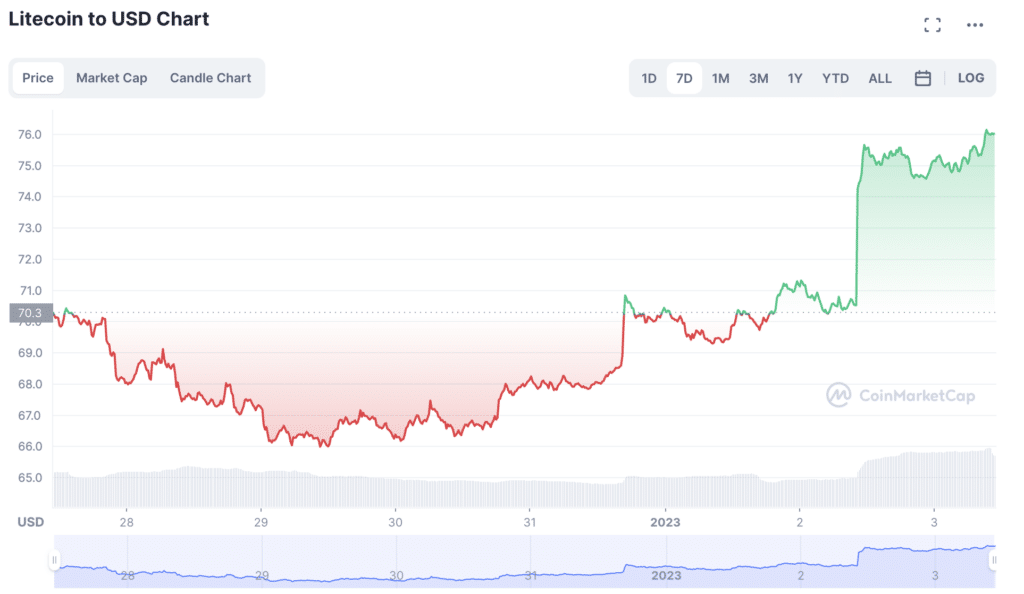 The second litecoin halving is scheduled for this year, therefore 2023 could be better for LTC investors. A halving is a recurring occurrence in which the block rewards given to miners are permanently reduced, and the number of coins in circulation is cut in half.
Such a situation might positively impact the price. The supply restrained this way makes the asset scarcer. Because of this, holders of litecoin are expecting a rally to develop quickly before the price halving anticipated for this August.
Litecoin price in 2022
Despite LTC's poor performance in 2022, the currency did learn some valuable lessons. One new record set by the network throughout the year was processing over 39 million transactions.
The network also had the second-highest number of new addresses created in 2022, with 52 million, among all cryptocurrencies.
Following the recent gains, LTC is currently the sector's 12th-biggest cryptocurrency with a market capitalization of $5.47 billion.

Follow Us on Google News
#Litecoin #gains #week #record #transactions