Ethereum has seen the price of its native token ETH drop alongside Bitcoin as the bear market continues to gain group. This has triggered fear among investors, leading to high selling pressure on the digital asset. Even the Ethereum whales are now dancing to the tune of the bear market as they have begun to send large amounts of ETH to centralized exchanges.
Ethereum Whales Push Toward Selling
A recent Santiment report posted on the X (formerly Twitter) platform has shown that Ethereum whales may be looking to exit stage left at this time. The chart which was posted by the on-chain data tracker shows that whales were moving 300,000 ETH to centralized exchange Coinbase.
The transfer took place across two transactions carrying 150,000 ETH each. At the time, each of the transactions was carrying ETH worth $243 million to the exchange. So in total, both transactions saw a total of $486 million in ETH moved to Coinbase.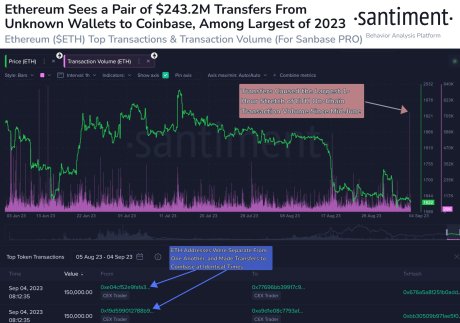 Whales send 300,000 ETH to Coinbase | Source: Santiment on X
Despite being such closely watched transactions, there have been no indications of what the whales intend to do. Usually, coins moving toward centralized exchanges means sell-offs, especially for large investors, who do so to minimize the impact of their selling as much as possible.
However, the price of Ethereum is still trading close to where it was on Monday, and if these whales were looking to sell, then such activities would've led to a fast plunge in the price of ETH.
There is also the fact that once the ETH was transferred to Coinbase's hot wallet, they would be further broken down into smaller chunks of 4,282 ETH, which were then moved to other wallets. But even this doesn't paint a clear picture of why the ETH was moved to Coinbase in the first place.
Bears Take Over With Negative Sentiment
The selling pressure that the Ethereum price has been under recently has not come out of nowhere. The Crypto Fear & Greed Index had moved into the fear territory following the market crash. This meant that investors were more likely to sell their holdings than put new money into the market.
Related Reading: On-chain Sleuth Potentially Unveils Shiba Inu Founder With Shocking Affiliates
For ETH, it has now become a battle for the bulls given that the bears have successfully dragged the price below the 50-day moving average. This points toward more bearish momentum for the asset in the short term. However, it is not all bad.
ETH price maintains $1,600 despite large transactions | Source: ETHUSD on Tradingview.com
Usually, when indicators have dropped so low, it can often be a bounce-off point for a recovery. So while ETH may be looking toward more bear movement for the near term, the digital asset could be close to another rally, possibly pushing its price above $1,700 once more.
ETH's price is changing hands at $1,624 at the time of this writing. It's down 0.90% and 1.31% on the daily and weekly charts, respectively.
Follow Best Owie on Twitter for market insights, updates, and the occasional funny tweet… Featured image from iStock, chart from TradingView.com

#Ethereum #Whales #Send #Million #Coinbase #Time #Exit