The legal industry has risen as a major beneficiary amid the financial downturn of several prominent cryptocurrency firms, garnering hundreds of millions in fees.
According to a report on Sep. 5, professionals, including lawyers, accountants, and consultants, have amassed at least $700 million from the bankruptcy cases of major crypto entities in the past year.
This substantial figure encompasses the fees incurred from the bankruptcy proceedings of five notable crypto companies: FTX, Celsius Network, Voyager Digital, BlockFi, and Genesis Global, from July 5, 2022, to July 31, 2023. As these cases continue to evolve, the total amount is expected to surge, especially with the forthcoming trial of Sam Bankman Fried in October.
The data indicates that the legal experts engaged in the FTX case have been the primary beneficiaries, billing a cumulative amount of $326 million. Sullivan & Cromwell, the law firm overseeing FTX's bankruptcy, has invoiced over $110 million in legal fees and $500,000 in additional expenses.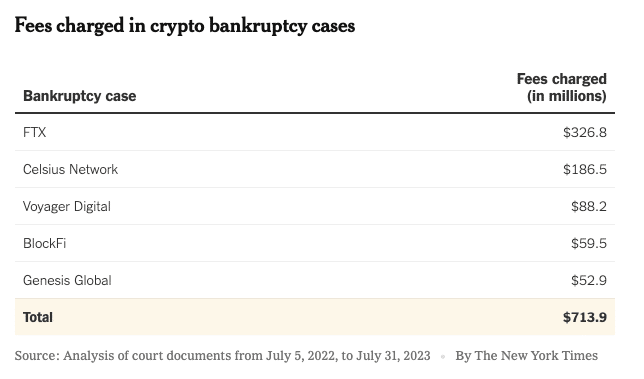 Andrew Dietderich highlighted that these escalating costs are fuelled by the ambiguity in cryptocurrency regulations, rendering the cases more intricate and prolonged.
Furthermore, Kirkland & Ellis, the firm responsible for managing the bankruptcy cases of Celsius, Genesis, and Voyager, has charged $101 million for their services, coupled with $2.5 million in expenses, as noted by The New York Times analysts.
Another firm, Alvarez & Marsal, has billed over $125 million for their contributions to the FTX, Celsius, and Genesis cases.
Earlier in January 2023, reports hinted at the potential windfall Sullivan & Cromwell might secure from their involvement in crypto bankruptcy cases. At that juncture, the firm had deployed over 150 personnel, including 30 partners commanding hourly rates surpassing $2,000, to work on the FTX case.
The soaring legal fees have raised eyebrows, prompting the appointment of Katherine Stadler as the fee examiner for the FTX case by the US bankruptcy court.
In a June report, Stadler affirmed the reasonableness of the fees, which had surpassed $200 million since the initiation of the bankruptcy in November.
As the legal battle intensifies, Sam Bankman Fried's legal team remains steadfast, recently urging the court to reject the latest demands from the US Department of Justice.
Notably, the department had sought to prohibit all seven of SBF's expert witnesses from testifying, which could cost SBF up to $1,200 per hour for each witness.
#Crypto #firm #crises #bring #700m #legal #professionals