MEXC announced plans to list a new spot trading pair, $BONK/USDT, on its markets today. The announcement was slightly bullish on the coin and is expected to have a broader impact once it comes to fruition.
$BONK/USDT trading pair
In a recent announcement, the Sydney-based MEXC exchange network highlighted the incoming listing of a new spot trading pair, $BONK/USDT. Reports indicate that $BONK is possibly the first solana-based meme coin. 
The MEXC statement today notes that the exchange would be listing BONK in the assessment zone and opening trading opportunities. In the release, the exchange gave a timeline for listing the token for deposits, withdrawals, and trading. 
For deposits, MEXC noted that it's already live; hence anyone can deposit the tokens. Later on Jan. 3, at 11:00 UTC, MEXC listed the token for trading using the USDT as the second asset in the pair. Finally, on Jan. 4th at 11:00 UTC, MEXC will finalize implementing the token's withdrawal system. 
Currently, $BONK is only listed on a few solana-focused DEX platforms, including Raydium, Orca, and Jupiter. Most platforms offer the $BONK/USDC pair, but Orca provides an additional $BONK/SOL pair. Therefore, the listing of $BONK/USDT will mark the introduction of a third trading pair for this token. 
While MEXC announced its plans to list the token, there are speculations that other exchanges are looking into it. 
What's next for Solana and $BONK community?
The news on $BONK's listing brought confidence in the Bonk Inu community and Solana network in general. The responses to the MEXC announcement tweet were quite positive. One Twitter user noted that the news is excellent for the Solana community.
The token's price could also benefit from the announcement and final listing later today. A few days ago, $BONK was added to Coinmarketcap's data tracking platform. At the time, the coin was trading at $0.000000108. However, at the moment, $BONK is selling at almost eight times the price, i.e., $0.000001.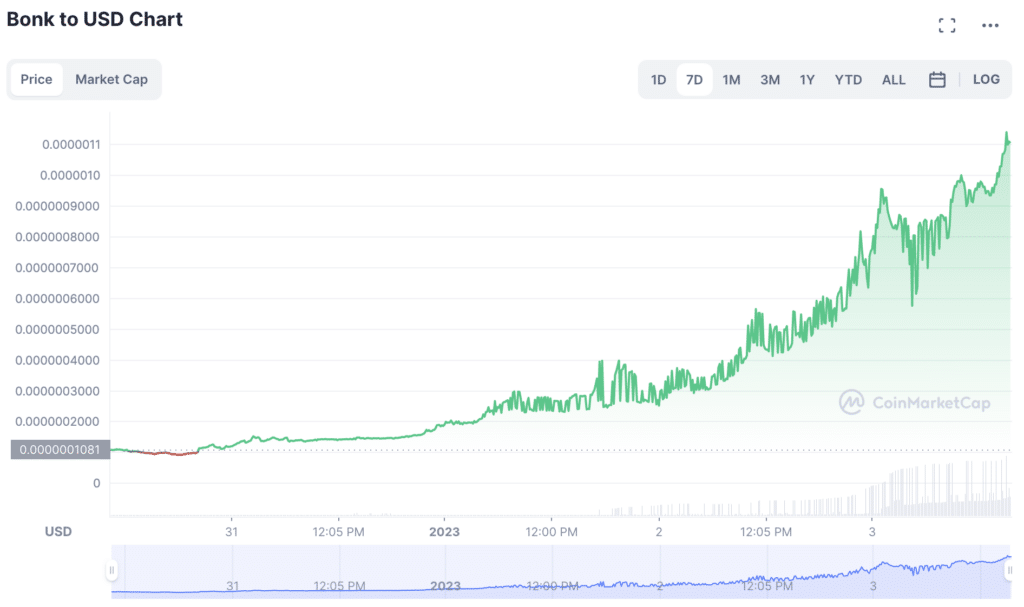 Once the listing is completed, the community could expect more price actions. 
Follow Us on Google News
#BONKUSDT #trading #pair #coming #MEXC