Bitcoin's circulating supply in profit has increased by 13% to a high of 60.5% following the asset's recent rally above the $18,000 price level.
Bitcoin (BTC) printed a winning candle for the fourth consecutive day yesterday, and despite facing rejection at the $18,300 point, the asset looks poised to close the day with its winning streak intact.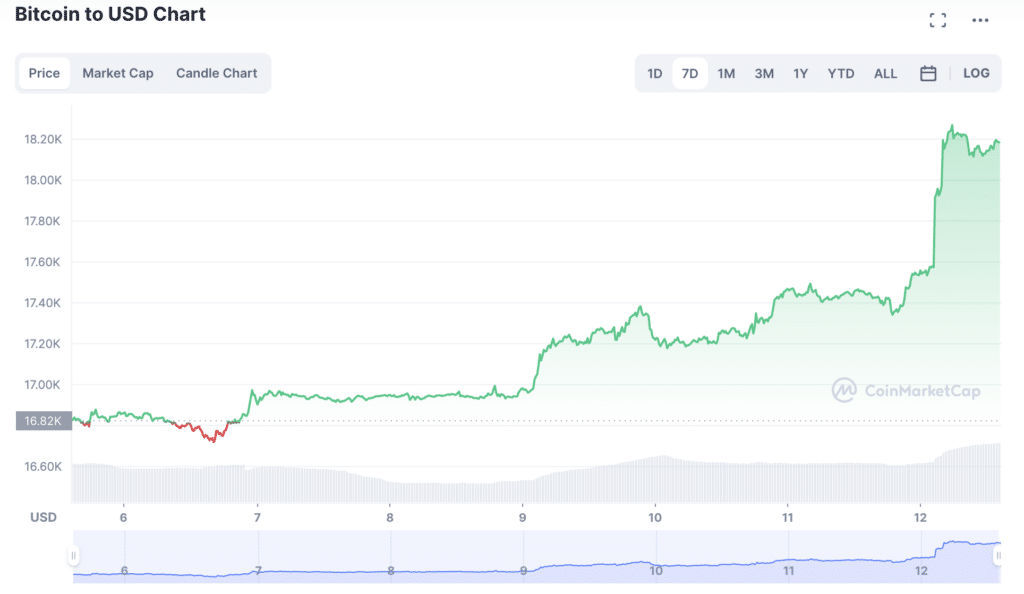 60.5% of bitcoin's supply is in profit 
Following the sharp drop from the high of $21,388 on Nov. 5, bitcoin's dip below $17K left more than half of its circulating supply in loss, with 47% to 48% in profit, per data from Glassnode. The asset surged above $18,300 today for the first time since Dec. 14, substantially increasing the supply in profit to 60.5%.
The CryptoQuant BTC: Supply in Profit indicator also highlights this significant surge. According to Glassnode, the massive uptick in the metric further substantiates the claim that most BTC tokens were procured between the $16.5k and $18.2k price points.
With the asset's latest breakout, industry experts are torn between ascribing the recent price uptick to a bear market rally or an end to the bear market. Notwithstanding, sentiments have picked up, with the Coinbase Premium indicating a high buying pressure on U.S.-based retail and institutional investors. BTC reserve on exchanges has also reduced, signaling a low selling pressure on investors.
BTC leverages the auspicious macro bearings 
The break above $18k was previously forecasted by most analysts yesterday, following BTC's three-day winning streak and an auspicious bearing on the U.S. macroeconomic climate. The nonfarm payrolls report of last Friday contributed to the uptick in sentiment, as payrolls increased by 223,000 in December, better than the estimate of 200,000. The unemployment rate also declined by 0.2% to 3.5%.
In addition, the FTX saga recently precipitated a sense of relief within the crypto space, as its lawyer Andy Dietderich disclosed yesterday that the embattled firm had recovered over $5 billion in liquid assets.
With the upcoming U.S. CPI data report slated for today, industry experts expect a decrease in inflation from the November rate of 7.1% to 6.5% in December. If the report confirms this or a lower value, the Feds could slow down its interest rate hike in the next FOMC meeting, taking off pressure from risk assets, including bitcoin. 
These expectations have fueled the bullish sentiments, contributing to a renewal in investors' interest and a subsequent rise in demand. Last week, Glassnode highlighted an increase in small BTC addresses following the asset's promising start to the year. BTC has leveraged the outlook on its journey to recapture $18.5k. The asset is changing hands at $18,167, up 4% in the past 24 hours.
Follow Us on Google News
#Bitcoin #surges #18k #supply #profit