According to recent on-chain data, altcoin volume dominance has reached its highest level since January 2021, while bitcoin's dominance is at its lowest in years. 
Altcoin dominance on the rise, bitcoin dominance low
An analyst from CryptoQuant highlighted this trend in a recent post, noting that bitcoin's dominance is currently sitting at just 16%, while the altcoin market as a whole is at 64%. The "dominance by volume" indicator measures the percentage of total crypto market trading volume that is being contributed by a specific coin. 
When the value of this metric increases for any cryptocurrency, it suggests that the coin is observing a higher amount of activity and interest from investors. Conversely, low values can imply that a crypto is losing support as its volume percentage decreases.
The chart posted by CryptoQuant shows the trend in dominance by volume for the entire altcoin sector (excluding ethereum) and for bitcoin over the past couple of years. It is clear that bitcoin's dominance by volume has decreased sharply recently, reaching a value of just 16%, the lowest it has been in the past couple of years.
On the other hand, the altcoin market has observed a significant increase in dominance, with a current value of 64%.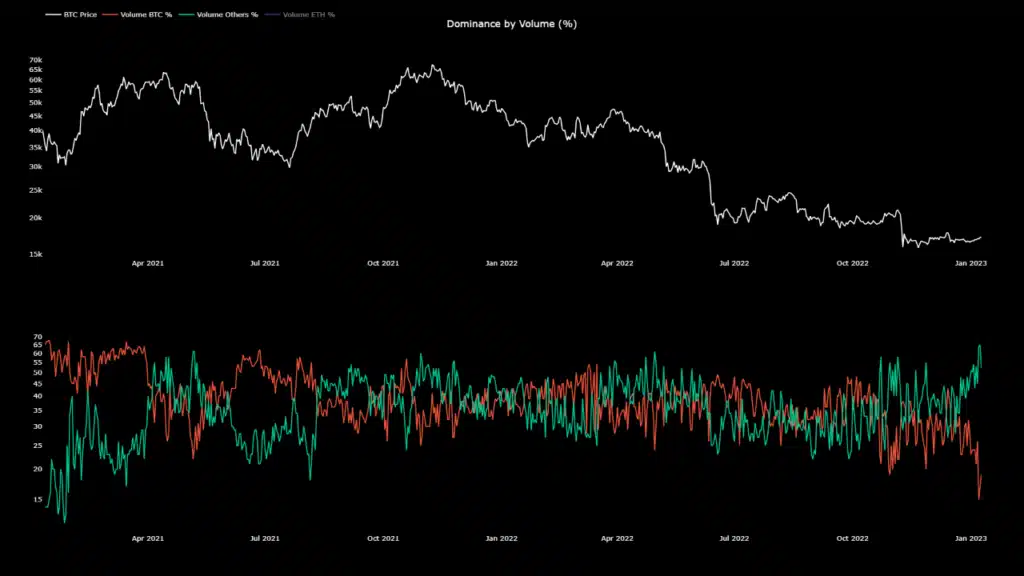 The analyst that brought this trend to light remarks it as "very concerning," pointing out that in the past, rallies led by altcoins have not typically lasted long, becoming potential beartraps for investors. In contrast, solid price rallies have generally only started when bitcoin's dominance was higher than that of altcoins.
Long-term hodling on the rise
Not all metrics spell doom for bitcoin, data from blockchain analytics firm Glassnode has revealed that an increasing number of bitcoin holders are taking their funds off centralized exchanges and holding onto them.
Despite a challenging year for the cryptocurrency market, users are hodling their BTC as the number of addresses holding a minimum of 0.01 BTC has reached a new all-time high.
These figures suggest that despite recent market events and the fall of cryptocurrency exchange FTX and the current crypto winter climate, interest and trust in bitcoin remains strong. Long-term holders are holding onto their assets, indicating that they continue to have faith in the world's first cryptocurrency.
Overall, the data highlights the resilience and enduring appeal of bitcoin, even during difficult market conditions. As more and more holders keep their bitcoin in their own wallets instead of on exchanges, this could be seen as a positive sign for the future of the cryptocurrency despite the lower dominance by volume.
Follow Us on Google News
#Bitcoin #dominance #sinks #altcoins #rise